VCU's Human Genetics Ph.D. program provides rigorous, interdisciplinary training across all aspects of human genetics and genomics.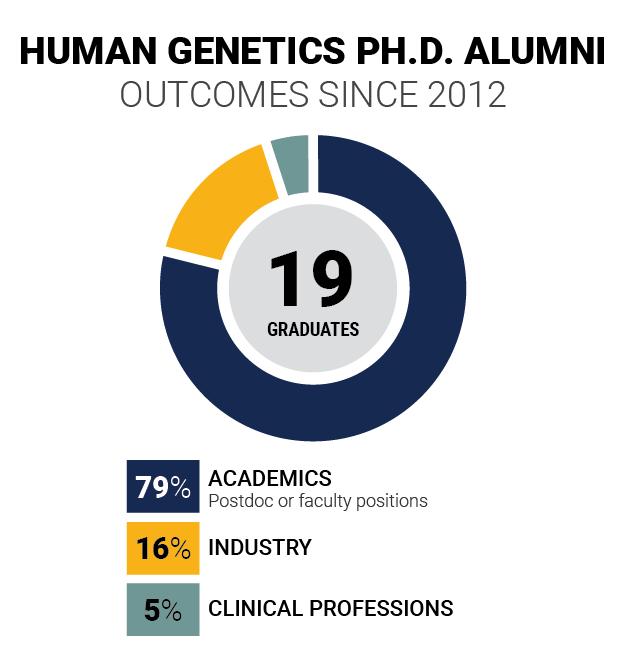 Our faculty are committed to supporting the next generation of scientists and academics in the field, and graduates of the program have gone on to pursue successful careers in academia, government, clinical and private industry laboratories. Over the course of three to six years, doctoral students develop the ability to design, implement and interpret experimental approaches to address questions across a broad spectrum of research areas, including:
Cancer genetics
Clinical genetics
Cytogenetics
Data science
Developmental genetics
Genetic epidemiology
Molecular genetics
Psychiatric and behavioral genetics
Quantitative genetics
Translational research
We also offer a quantitative human genetics concentration for Ph.D. students.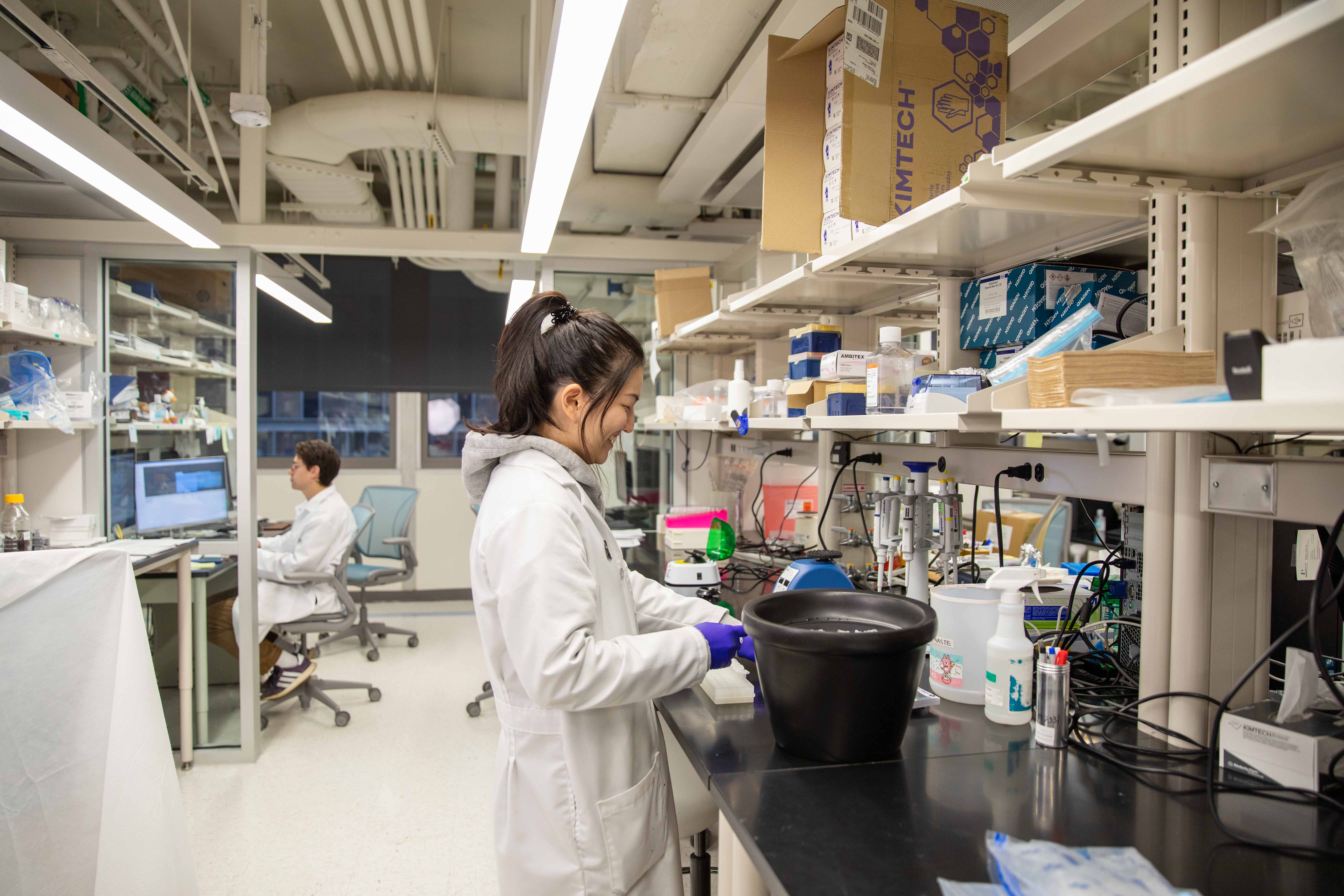 "'The best teachers are those who show you where to look but don't tell you what to see' (Alexandra K. Trenfor). This quote has always resonated with me because it emphasizes the importance of empowering students to explore and discover knowledge on their own, rather than simply providing them with answers."
Roxann Roberson-Nay, Ph.D.
Interim Graduate Program Director
The first stage of the Ph.D. program focuses primarily on coursework, to develop a solid background in biomedical sciences such as data science, statistics and scientific integrity. Courses also include introductory and advanced explorations of mendelian genetics, cytogenetics, molecular genetics, statistical genetics, clinical genetics, genomics, disease pathogenesis and the study of complex disorders. The curriculum also includes journal clubs and seminars. Students must complete the required courses within four semesters and one summer.
During the first year, students rotate through three laboratories to explore different areas of research. By the end of the first year, students are expected to select a faculty mentor for their dissertation work and formally join the program.
During the second year, students identify faculty members to serve on their graduate advisory committee and shift their attention to an original research project and related activities such as publishing articles and presenting at conferences. Upon completion of the research project, students prepare a written dissertation based on their findings, which they present in a public seminar and defend to their graduate advisory committee.
Full-time doctoral students typically receive financial support that includes a stipend (currently $31,500 per year) and health insurance, plus tuition and fees for the duration of their training as long as they are making satisfactory academic progress. Students are eligible for travel grants through the Graduate School.
Life in Richmond
We encourage our students and trainees to maintain a healthy, balanced life, and Richmond is a wonderful place to engage in that well-rounded lifestyle. As a mid-sized city with a metropolitan population of 1.3 million, Richmond provides stimulating activities while maintaining its intimate feel and unique vibe.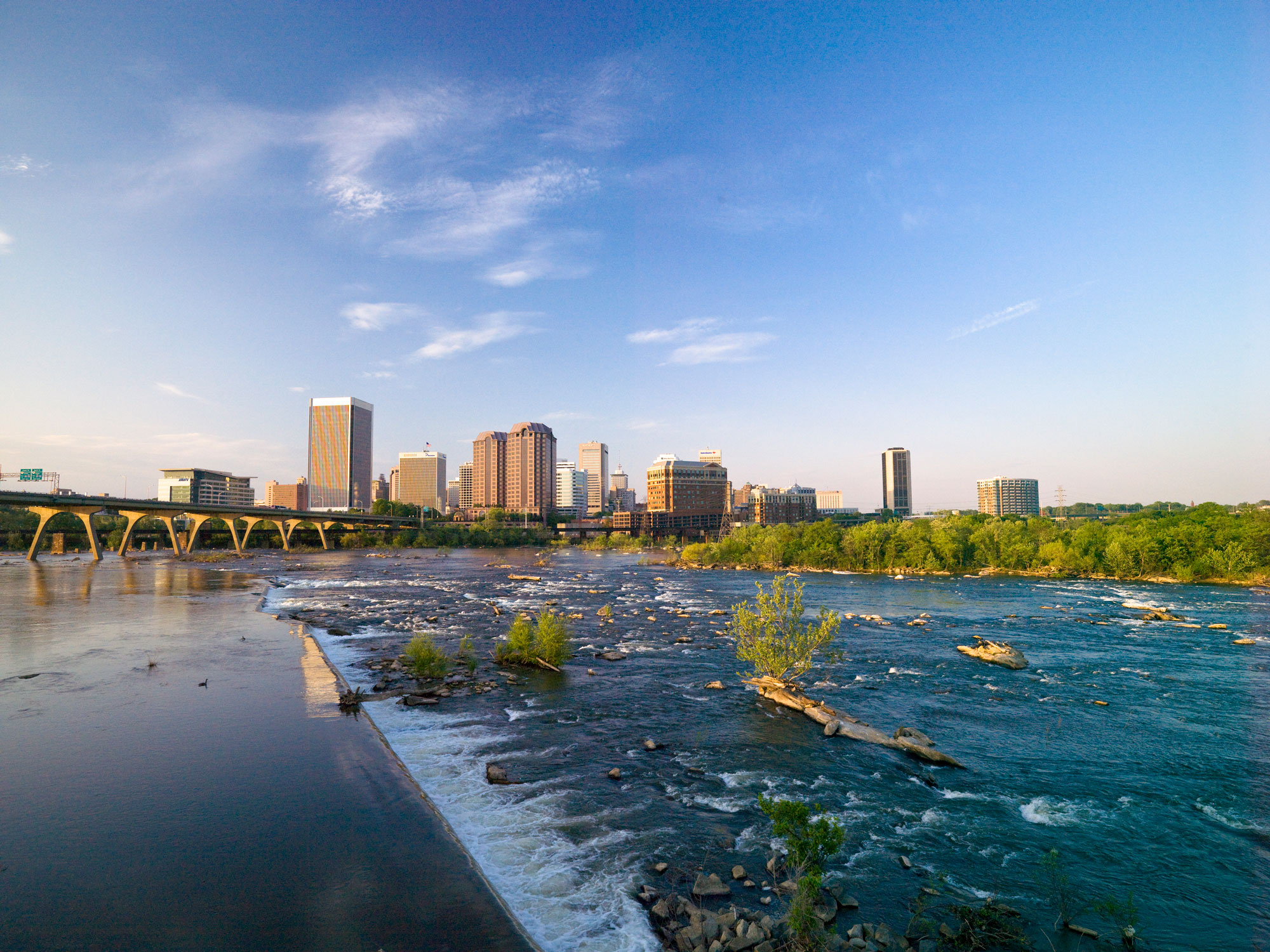 Applicants must apply through the Biomedical Sciences Doctoral Portal, or BSDP, which is an entry point for students interested in doctoral training in the biomedical sciences. After creating an account with the Graduate School at VCU, select "Application for all other graduate programs," then select "Biomedical sciences – Undifferentiated – Doctoral Portal," before completing the application.
Admission requirements for the Ph.D. in human genetics can be found at the VCU Bulletin:
Do I need GRE scores to apply for the program?
We currently do not require GRE scores for admission decisions for the Ph.D. program.
---
How many students are accepted into the Ph.D. program in human genetics?
The number of students accepted annually varies, but incoming Ph.D. classes typically have three to six students each.
---
What is the minimum TOEFL score I need to be accepted into the program?
A minimum of 100 must be achieved on the computerized TOEFL exam.
---
What is the minimum IELTS score I need to be accepted into the program?
A minimum of 6.5 must be achieved on the IELTS.
---
Do you accept students for the spring semester?
The vast majority of our students enroll starting in the fall semester. We consider applications for students that want to enroll starting in the spring semester in very special circumstances only.
---
How do I apply for a student assistantship?
You do not need to apply separately for a graduate assistantship for the Ph.D. program. It is automatically done for Ph.D. applicants, domestic and international alike.
---
Do I need to choose a mentor before applying to the Ph.D. program?
Human genetics Ph.D. students do not need to choose a mentor before they start graduate school. Instead, Ph.D. students perform up to three laboratory rotations during their first year and then choose a mentor during that time.
---
Where do VCU graduate students live?
Most students live off campus. Check out VCU's off-campus housing website and learn more about Richmond neighborhoods here.
---
What is the minimum Duolingo score I need to get accepted into the program?
A minimum score of 120 must be achieved on the Duolingo exam.
---
What is the minimum Pearson Test of English (PTE) score I need to get accepted into the program?
A minimum score of 65 must be achieved on the PTE exam.
---
How recent do my English proficiency test scores need to be in order to get accepted into the program?
Scores are valid for two years.
For more information about the Human Genetics Ph.D. program, please contact:
Roxann Roberson-Nay, Ph.D.
Interim Graduate Program Director
roxann.robersonnay@vcuhealth.org